More creative audio advertising
SEVEN, Inc. is a production company that specializes in audio, and we're fully committed to maximizing the potential of audio advertisements. We aim to bring our clients' visions to life and effectively convey their messages by providing the best solutions that remove any constraints related to audio advertising production.
About making a standard commercial
SEVEN has a concept of 'making voice ads more casual'. They eliminate constraints such as time and budget through their business structure and technology.
・Since we handle everything in-house, we can be very flexible.
SEVEN can handle all aspects of commercial production, including copy creation, casting, recording, editing, and submitting to media and platforms. This allows us to accept partial orders for specific services such as 'I only want to request copywriting' or 'I only want to request casting' or 'I only want to request recording.'
・We prioritize speed and flexibility in our network with external staff.
We collaborate with external copywriters and narrators. SEVEN secures close members in each field of work to manage schedules and costs at an almost in-house production level. We also conduct regular auditions to find members with high-level skills.




・Our in-house recording setup means we can work around time and budget constraints more easily.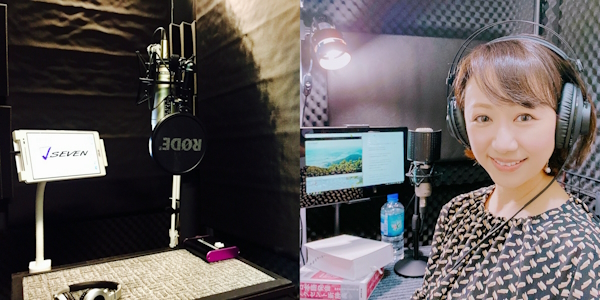 SEVEN has set up narration booths in two offices, Tokyo and Fukuoka. This allows us the freedom to not be constrained by the availability and fees of external studios. We also offer online recording viewing so that advertisers/agencies/platforms can check recording status from anywhere. By allowing clients to view everything from meetings to recordings to the initial editing stage, we can eliminate any differences in the image between the parties during the editing process.
We can handle both prototyping and large-scale production.
We can handle prototyping and mass production with our speed and low cost advantages. With your original document, we can deliver in as little as 2 business days.

・Easy Audio
SEVEN is a CM production service that conducts auditions and selects narrators for home recording to produce high-quality CMs that can be used on radio and major audio ads.




・AI Narrator (TTS) for commercial production.
SEVEN offers services to create voiceover narration for video ads and audio commercials using TTS (Text-to-Speech) software. As a professional audio service provider, we ensure appropriate handling and produce high-quality AI narration quickly and affordably.


Sound logo and jingle production.
SEVEN collaborates with external specialists to create sound logos and advertising music. We accurately combine the images between the advertiser and the musician to deliver a 'sound asset' that will be loved for a long time.


We support multiple platforms too!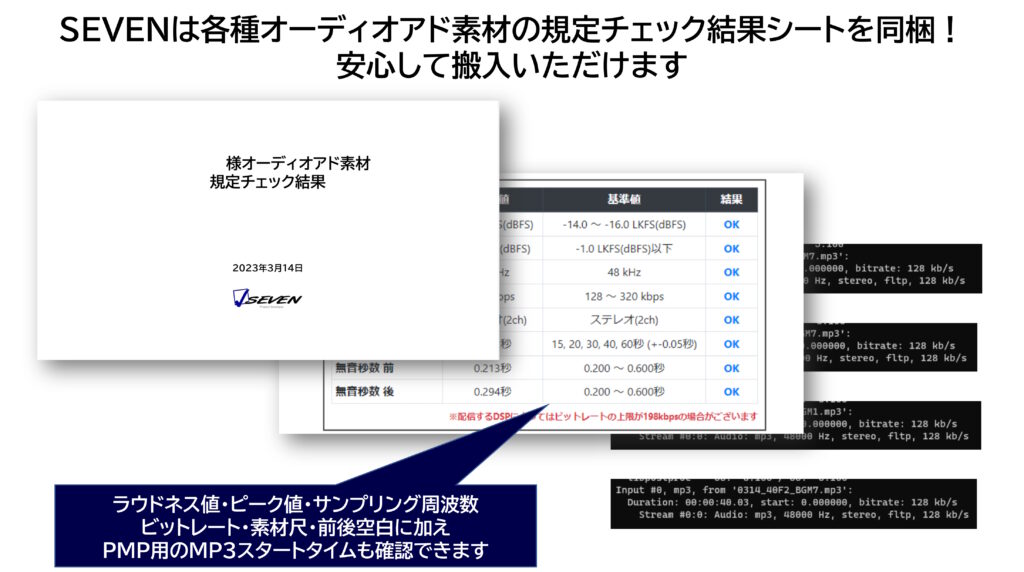 SEVEN is familiar with radio and various audio ad formats, and performs adjustments and conversion work to match them. We can handle format conversions for CM materials in as fast as 1 hour. We also support the online submission system 'RadiPos', making it possible to deliver CMs to radio stations nationwide.
Previous production cases

Tsuchiya-Kaban



Shuto Kousoku (TTS-CM)



Nichiban (TTS-CM)



Yugo (TTS-CM)



radiko



Rakuten



Amazon Japan



e-cloud



FiNANCiE



Nikkei BP (Easy Audio)



Imuge



WOWOW "The Rugby"



Nichiban



Ichinen-Chemicals



FlexTech (Easy Audio)



Microsoft "Surface Laptop4"



Joyfull



Asahi-Shimbun



Daiichi-Sankyo Healthcare



WOWOW



Yahoo!JAPAN



Infomart



JA



Mitsui Shopping Park



radiko



Tresure Factory